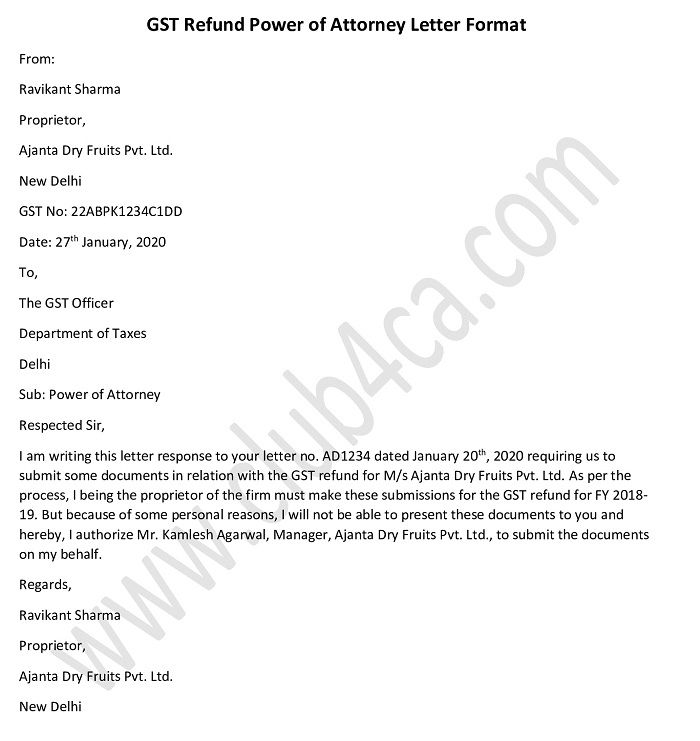 That's a really very good news for a business if you are expected to get GST refund but for that there is a process that needs to be followed which requires you to be present in person to present the required documents but in case if you cannot make it then you can write a Power of Attorney Letter for GST Refund stating that you are giving someone else the power to do the needful on your behalf. For that you need a GST power of attorney format. You need a Letter of Declaration Format for GST Refund to have everything processed right.
Here is the professionally drafted Power of Attorney letter format for GST Refund which you can use for the purpose.
GST Refund Power of Attorney Letter Format
From:
Ravikant Sharma
Proprietor,
Ajanta Dry Fruits Pvt. Ltd.
New Delhi
GST No: 22ABPK1234C1DD
Date: 27th January, 2020
To,
The GST Officer
Department of Taxes
Delhi
Sub: Power of Attorney
Respected Sir,
I am writing this letter response to your letter no. AD1234 dated January 20th, 2020 requiring us to submit some documents in relation with the GST refund for M/s Ajanta Dry Fruits Pvt. Ltd. As per the process, I being the proprietor of the firm must make these submissions for the GST refund for FY 2018-19. But because of some personal reasons, I will not be able to present these documents to you and hereby, I authorize Mr. Kamlesh Agarwal, Manager, Ajanta Dry Fruits Pvt. Ltd., to submit the documents on my behalf.
Regards,
Ravikant Sharma
Proprietor,
Ajanta Dry Fruits Pvt. Ltd.
New Delhi
Click Here to download Power of Attorney letter format for GST Refund in Word
Other GST Related Formats
Top File Download: